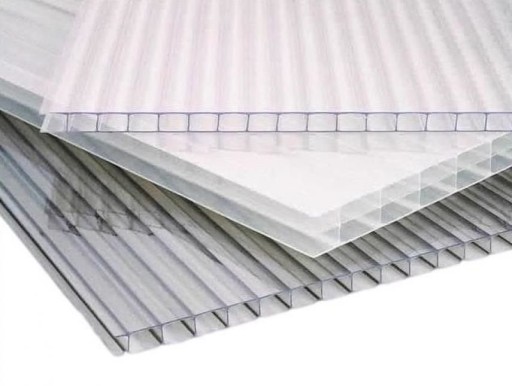 Mainly used in building for translucent cladding or roofing, Cellular Polycarbonate proves its quality every day with respect to the thousands of m² already laid.Manufactured from the same resins as rigid Polycarbonate, the cellular version has the same main qualities: lightness and solidity.
Designed for exterior applications, cellular Polycarbonate is treated with UV protection on both sides; however, it is also present for interior applications for separations, protections or insulation.
These good thermal and acoustic insulation properties and the large size of its main standard format allow it to meet the most diverse demands.
Dimensions and thickness
Sheets
| | |
| --- | --- |
| THICKNESS (mm) | SIZE (mm) |
| 4.5 ; 6 ; 10 ; 16 | 7000 X 2100 |
| 32 | 7000 X 1250 |
Colors and finishes
Standard color : colorless
Other existing colors : diffusing white, smoked
Available in version : grained appearance, Venetian decor, anti heat, reflective
Les points clés
good thermal - acoustic insulation
high deformation temperature under load