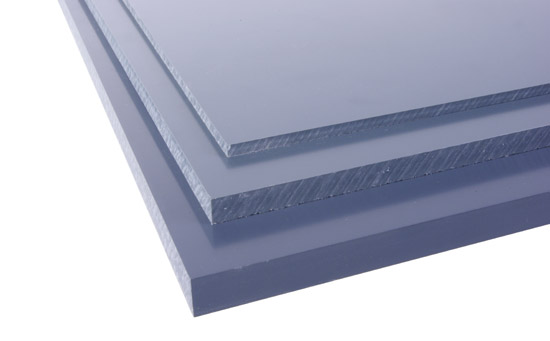 Main brands : Trovidur®, Hostalit, Kömadur®

PVC is today the plastic material that covers the widest field of application, from automotive to packaging, from pipes for the building industry to the clothing industry, it comes in very different forms. The major reason for this universal use of PVC lies in the performance of its physicochemical properties and therefore its ability to meet a wide variety of requirements.
PVC has good protective properties and UV resistance but a limited operating temperature range, becoming fragile at 5 ° C (unless modified) and a maximum operating temperature of 70 ° C.

The chlorine content of the PVC makes it a flame-retardant material. The temperature required to ignite the PVC is 150 ° C higher than the temperature of the wood flame. In any case it is a self-extinguishing material.
Dimensions and thickness
Sheets
| | |
| --- | --- |
| THICKNESS (mm) | SIZE (mm) |
| 1 ; 1.5 ; 2 ; 3 ; 4 ; 5 ; 6 ; 7 ; 8 ; 9 ; 10 ; 12 ; 15 ; 20 ; 25 ; 30 ; 35 | 2000 X 1000 ; 3000 x 1500 |
| 40 ; 45 ; 50 ; 60 ; 70 ; 80 ; 90 ; 100 | 2000 X 1000 ; 1000 x 1000 |
Standard color : grey
Other existing colors : colorless, white, ivory, light grey, red, black
Available in version : stabilized UV, thermoformable, superchlorinated, diffusing light
Rods
| | |
| --- | --- |
| DIAMETER (mm) | LENGTH (mm) |
| 6 ; 8 ; 10 ; 12 ; 14 ; 15 ; 16 ; 18 ; 20 ; 25 ; 30 ; 35 ; 40 ; 45 ; 50 ; 55 ; 60 ; 65 ; 70 ; 75 ; 80 ; 85 ; 90 ; 100 ; 110 ; 120 ; 130 ; 140 ; 150 ; 180 ; 200 ; 225 ; 250 | 2000 |
Standard color : grey
Other existing colors : colorless, white, ivory, light gray, red, black
Tubes
DIAMETER (mm)

LENGTH (mm)

15 x 5

50 x 22

2000

18 x 5

55 x 25

20 x 6

60 x 28

22 x 6

70 x 30

25 x 8

80 x 40

28 x 10

100 x 50

30 x 10

125 x 50

32 x 12

150 x 50

35 x 12

160 x 100

40 x 15

200 x 100

45 x 20

230 x 150
For other diameters please contact us - Some diameters are subject to a minimum order, consult the sales department
Standard color : grey
Other existing colors : transparent, red
Hexagon bars
| | |
| --- | --- |
| KEY DIAMETER (mm) | LENGTH (mm) |
| 10 ; 12 ; 13 ; 15 ; 17 ; 19 ; 22 ; 24 ; 27 ; 30 ; 32 ; 38 | 2000 |
Standard color : grey
Welding sticks : round / triangular / travel / oval
Standard length : 1000 mm
Standard color : grey
Other existing colors : ivory, transparent
Profiles : square tube, rectangular tube, L, H, U, T
Standard length : 3000 mm
Standard color : grey
Other existing colors : white,black
Les points clés
good overall chemical resistance
good rigidity up to 70 °C
good dimensional stability