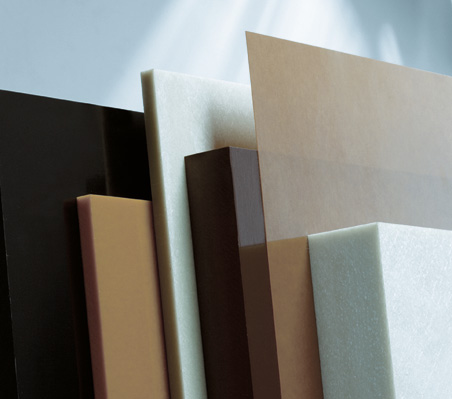 HPL
Composite panels consist of two melamine faces with a KRAFT paper core impregnated with special phenolic resin. One or two sides are coated with a decorative paper impregnated with melamine resin.
Applications
medical equipment and furniture
filling panels for machine boards
above workstation
Workshop partitions
Partitions cladding
wall protections in public places
ideal link in metal constructions
Standard colours
20 standard colors in 6 mm thickness only. Delivery to the plate within 8 days.
Quality "KN" exterior.

Standard format:
3050 x 1270 mm
Other colours
120 possible colors in all thicknesses from 3 to about 20 mm.
Delivery by minimum of 10 plates per color (special fabrications), with a delay of 2 to 5 weeks.
Standard formats:
3050 x 1270 mm
2440 x 1270 mm
2150 x 1270 mm
2790 x 1270 mm
Phenolic paper
It's a laminate composed of a core made of phenolic paper, plated on both sides of a decorative paper impregnated with a specific melamine resin 0.25 mm thick resistant to routing current.
Specific characteristics of phenolic paper
good mechanical and dielectric properties
good resistance to electric arc and current flow
good stability to light
raincoat
Incandescence resistance and to the usual acid or alkaline solutions
Unlike lacquered metal surfaces, phenolic paper does not degrade and resists corrosion. It is also halogen-free and non-fusible. In case of fire, no propagation, corrosion or weakening is to be feared.
Applications
medium-voltage installations up to 36 kV, such as partitions, cupboards, etc. It is used in particular for cover plates, support plates or front panels in distribution installations, control panels equipped with power plants, control rooms and vehicles.
cut-off chamber partitions, counting panel, fuse box and control panel.
self-supporting panel and bulkhead in electrical cabinets.
Epoxy glass fiber
Epoxy glass fiber is composed of a thin glass cloth impregnated with a high temperature resistant version of the epoxy system.
Specific characteristics of epoxy glass
excellent thermal, chemical and mechanical properties
high flexural strength and high temperature compression
excellent chemical resistance
Application
electrical and thermal insulation in different machines when the thermal and mechanical stresses are particularly high